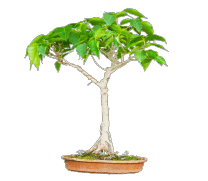 Ficus Religiosa
SKU CODE: FICUSR410
Rs. 3900.00 | $ 65.00
Ficus religiosa Bonsai, PAKUD TREE/ Bodhi Tree an Ever Green Plant, Natural upright Period under Training 3 Years, Ceramic Oval ( 10" x 7"), Height 22" Sun Loving. Suitable for displaying indoors also Flowering Water regularly; do not overwater. Special feature of Plant species - Considered as belonging to the line of the bodhi tree, where Gautam Buddha achieved enlightenment. Believed to purify the air more than any other tree.
In Stock
Product from different category:
Have a Question about Ficus Religiosa Product?